Monday, 21.08.2016, 5:15pm
"Why Culture Matters: For public health, existential health, and health promotion"
Abstract
Attention to and inclusion of public mental health in the area of public health has been strengthened over the past decade. Emphasis on public mental health promotion and on existential health as an integral part of such are developing strategies. These strategies always need to be interpreted through specific cultural contexts and within each context levels of analysis for majority- and minority populations need consideration. Two important, complex, and overlapping areas of public mental health promotion are cultural- and existential meaning information. The presentation will explore developments, challenges, and new international research findings in these areas as well as the particular contributions psychology of religion could make to addressing challenges in these areas and furthering the agenda of public mental health promotion.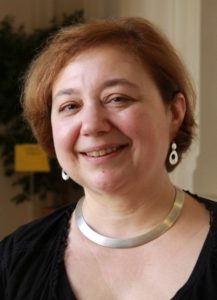 Dr Valerie DeMarinis, PhD, is Professor in Psychology of Religion and Director of the Research Area in Well-being and Health of the IMPACT of Religion: Culture, Society and Democracy, at Uppsala University, Sweden. She is also Guest Professor in Public Mental Health at the Department of Public Health and Clinical Medicine, Umeå University, Sweden.
Dr. DeMarinis also works in research in public mental health promotion and existential health at the Psychology of Religion Centre at Innlandet Hospital Trust, Norway. Her research has focused on investigating areas of existential- meaning, need, and resources in relation to different patient areas and in cultural contexts: palliative care, addiction, psychiatry, migration trauma, and youth mental health. Among current research programs, she is PI for the first Norwegian study of the Cultural Formulation Interview (CFI) from DSM-5.
DeMarinis is an elected board member of the Section on Religion, Spirituality and Psychiatry of the World Psychiatry Association. She is a member of several editorial boards including: Archive for the Psychology of Religion and the International Journal for the Psychology of Religion.